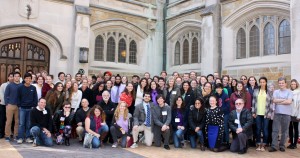 Wesleyan astronomy students and faculty traveled to Vassar College for the 24th Annual Undergraduate Research Symposium of the Keck Northeast Astronomy Consortium (KNAC), held on October 25 and 26, 2013. About 85 astronomy faculty and students attended the one-day symposium, listening to talks by students at our institutions who did summer research projects in astronomy. KNAC is currently supported by an NSF grant to Wesleyan University. Member colleges are: Colgate, Haverford, Middlebury, Swarthmore, Vassar, Wellesley, Wesleyan and Williams.
In addition to the talks, we enjoyed a dinner and evening star party hosted at the Vassar College Observatory. Student speakers from Wesleyan were Junior Trevor Dorn-Wallenstein and Sophomore Jesse Tarnas. Also attending from Wesleyan were: Suwun Suwunnarat, Avram Stein, Girish Duvvurl, Maia Neiles-Sager, Julian Dann and Simon Wright, as well as Professors William Herbst, Meredith Hughes, Roy Kilgard and Seth Redfield.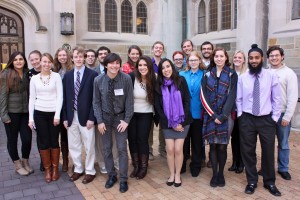 The student speakers at the KNAC conference at Vassar.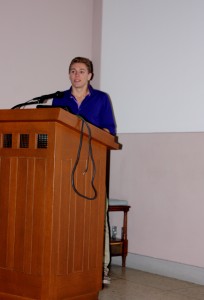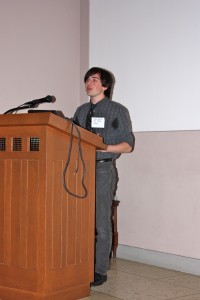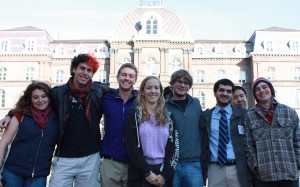 Also presenting at the conference were KNAC students who worked at Wesleyan last summer, doing research under the direction of Wesleyan faculty. Four students from last summer gave talks. They were: Frankie Encalada from Broward College, who worked with Professor Meredith Hughes, Rachel Pedersen from Bates College who worked with Professor Bill Herbst, Alyssa Sokol from Colgate University who worked with Post-doc Adam Jensen and Estella de Souza from Bryn Mawr College who worked with Professor Seth Redfield. Will Harney of Union College presented a poster paper based on his summer research with Professor Meredith Hughes.